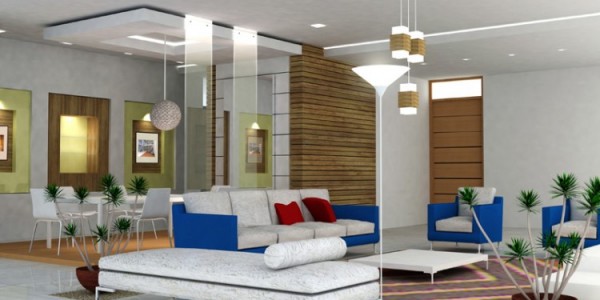 Ergonomics and modern architecture makes interior designing and decoration very essential. Interior designing has become a must in corporate and commercial spaces. There are many who employ interior designers to design and redesign their homes. Interior decorators are hobbyists who have turned into entrepreneurs. Interior designers and decorators can accentuate the interiors' strength and hide its flaws to turn the space into appealing and functional spaces. Interior designing can be an expensive affair especially when consulting a professional interior designer and interior designing a home or particular space entirely. There are those who like to do it all by themselves, which if thought out and executed carefully can be cost effective and intelligent ways to interior designing. Interior designing need not replace everything in the room, certain tweaks here and there too can go a long way. You can find more information at www.boredpanda.com
Here are some interior designing tips by famous interior decorators in Qatar.
The front door: Screen doors and screen panels are out of fashion and the more fun and bold colours of red, orange and yellow are in to create a great first impression. Red is considered auspicious and welcoming while orange and yellow represent joy and warmth.
Light and neutral wall colors: Neutral wall colours are recommended at least on the ground floor to avoid jarring transitions. Neutral colours offer great flexibility in decoration and switching of accessories. Adjacent small rooms painted the same neutral colour look larger. Within the neutral colours, stripes of shades of the same colour or slight variations may be employed.
Talking furniture: When placing furniture in the living room, place them such that they invite conversation, that is to say, that the furniture must be arranged facing each other. Furniture must not be pushed against the wall, instead, they should be placed away from the wall, and this will make the room feel larger. U shape or H shape arrangement of sofa sets are ideal. The U-shape arrangement has a sofa at the bend and smaller seas facing each other at the ends of the coffee table while in H shape arrangement the sofa lies directly across the two seats with the coffee table in between.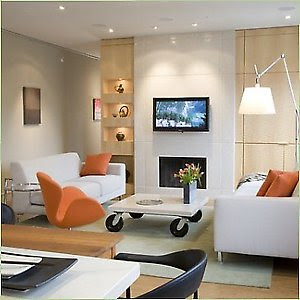 Lesser and more functional furniture: Use just enough furniture to avoid clutter. Too much furniture can make the room smaller and overcrowded.
Maximize natural light: Heavy drapes are a thing of the past. Use light fabrics such as cotton, linen and silk blends to let in more natural light, unlike heavy drapes that block sunlight. These are more functional and elegant. Natural light conveys positive energy and also helps cut on electricity bills.
Mirror, mirror on the wall: Mirrors make space feel brighter as they bounce light around the room. Mirrors must be placed perpendicular to windows and not opposite a window. Mirrors placed opposite a window may bounce the light back out the window. Wrongly placed mirrors are worse than no mirrors at all.
The positioning of artwork: Artwork or photo frames on walls must be placed at the right height. The centre of the picture must lie at eye level of a person of average height. For large walls use large pictures or group smaller frames gallery style. In gallery style, the pictures must not be placed too far apart.
Layered Light: Three kinds of lighting are a must for all rooms. Ambient or overall illumination which is usually from ceiling fixtures. Task lighting which provides lighting over kitchen islands or a reading corner. Accent lighting is well placed decorative lighting that works like a piece of art. Uplights work like torchiere and cast light on the ceiling which makes the room look bigger.
Declutter: Homes tend to accumulate stuff over the years. Shelves hold more than what they are built for. Clearing up space on shelves and closets can be a daunting task but are as rewarding. Rearranging a showcase or bookshelf itself is the first step to interior decoration. Remove a few books and alternate shelves with books and decorative items like vases, bowls or collections. There are professionals who can be hired to come over and clear up your mess for you.
Raised Ceilings: Well, you cannot just tear apart the building to raise your ceiling but there are visual tricks that can help to make the room feel more spacious and tall. Curtains hung higher than the windows are a great trick to make the room look taller. Vertical stripes painted on the wall also make the room look taller and less claustrophobic. Large mirrors can do the same trick too.
Refurbish existing accessories, switch plates and cabinets: Chandeliers can be renewed with spray paint, cabinets may be repainted and just changing their holder for something classy can change its look totally. Old switch plates can easily be swapped with new ones.
Of Rugs: Use rugs that complement all other elements and colours in the room. Find a rug that is easy to clean. There are three ideal ways of placing furniture on or around the rug. If the rug is large enough all furniture can be placed on the rug and it feels luxurious. When employing large rugs be sure to leave some floor space around all four sides of the rug. Small rugs for small rooms. This is a cost effective choice. While all furniture is off the rug except the coffee table, it must look like the furniture could just touch the rug. The third method of placing is a rug is such that while the coffee table lies at its centre, all front legs of other furniture are placed on the rug.
There are so many more interior designing tips available on the internet. You can also check www.creativebloq.com for latest innovative ideas.